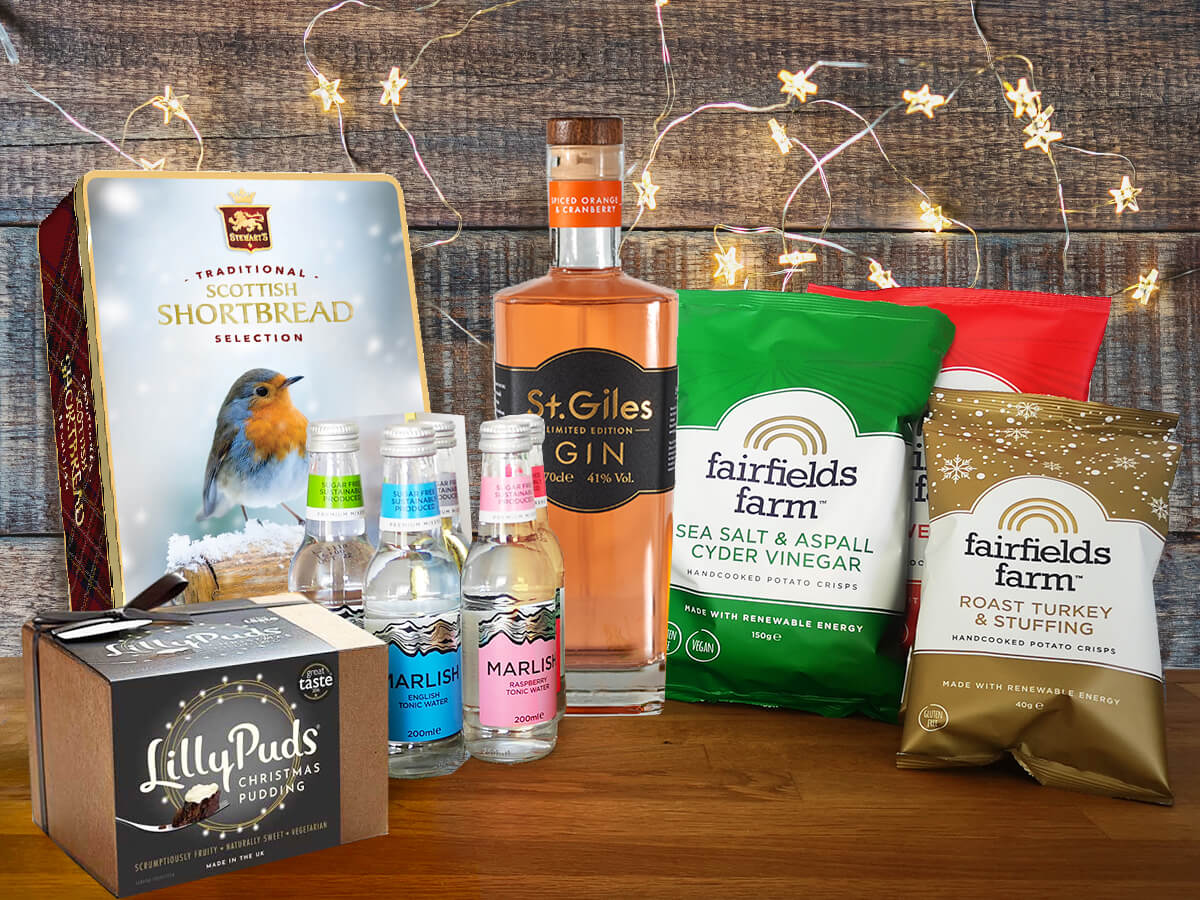 Is that sleigh bells we hear? No, it's the ping of 100 WhatsApp messages from friends past and present trying to arrange a get-together before Christmas!
Worry not, we've teamed up with St Giles Gin, Marlish tonic water, Stewart's shortbread, and Lilly Puds to put together the ultimate Christmas Drinks bundle to prepare you for the festive social season!
What's included?:
From St Giles: St. Giles Limited Edition Spiced Orange and Cranberry Gin
Fellow East Anglian producer St. Giles make the kind of gin that seems to magically disappear, particularly if you have a few friends round. This limited edition Spiced Orange and Cranberry Gin is a delicious talking point for the next gathering.
From Marlish: 20 tonic waters and mixers
Case contains: 4 x English Tonic Water, 4 x Distillers Choice Tonic Water, 2 x Ginger Ale, 2 x Raspberry Tonic Water, 2 x Elderflower Tonic Water, 2 x Dandelion & Burdock Tonic Water, 2 x Rhubarb & Ginger Ale, 2 x Premium Lemonade.
Marlish first caught our eye because they're an independent business and share our sustainability goals. And then we tasted them! A delicious, light addition to any spirit or to be sipped on its own. A Fairfields Farm favourite is the Rhubarb and Ginger Ale
From Stewart's: 400g Christmas shortbread tin
The Christmas classic that you need in every household at yuletide, with the traditional robin illustration. Made by our friends and fellow family business north of the border, Stewart's, who have perfected their recipe over 40 years.
From LillyPuds: Christmas Pudding 454g
LillyPuds is a business created by Alison Lilly, our East Anglian neighbour. Her puddings are the stuff of local legends. LillyPuds are regulars at the nicest food shows and are stocked by discerning retailers nationwide. They make vegan, gluten free, alcohol-free and classic options. You simply have to try one!
From us, Fairfields Farm: 3 x sharing bags of your choice and 2 x NEW Roast Turkey & Stuffing single packs
[This competition is now closed – thank you to everyone who entered!]
T&Cs
The competition will run from Thursday 11th November to midnight on Thursday 2nd December 2021.
The winner will be announced on Friday 3rd December 2021.
This competition is limited to one entry per email address.
There is no cash alternative to the prize offered.
The winners will be contacted directly by email and have 7 days to claim their prize.
Entries must be from within UK mainland only.
Entrants must be over the age of 18.
The prizes will be shipped separately and will likely arrive at different times.