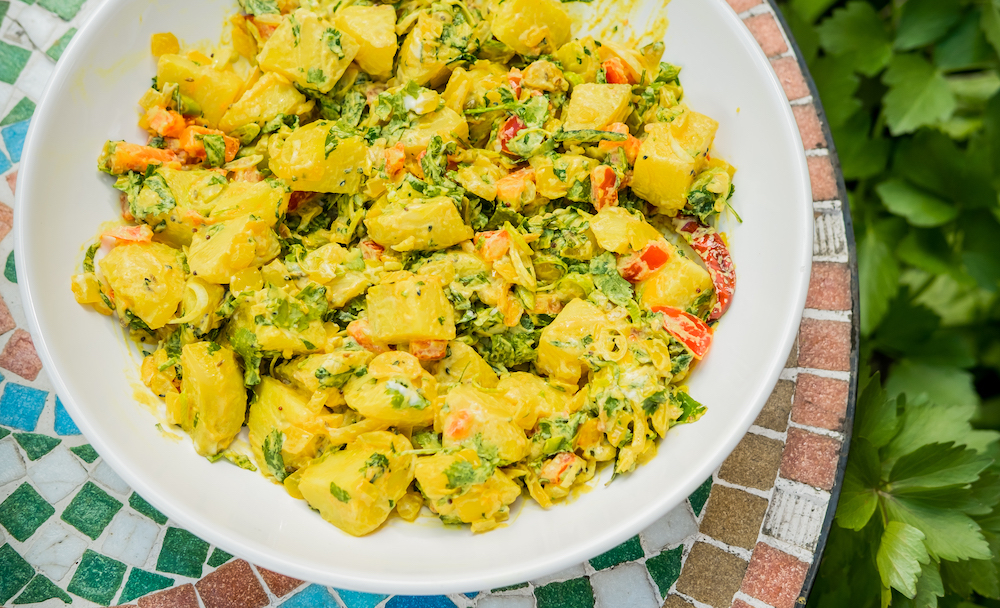 This National Curry Week we are delighted to share with you a popular potato recipe from Rafi's Spicebox. Rafi's Bombay Potato Salad is perfect as part of a light evening meal or even for picnics and BBQs.
INGREDIENTS
500g Fairfields Farm Baby Potatoes
2 tbsp sunflower oil
1 onion, finely chopped
Juice of ½ lemon
4 spring onions, finely sliced
2 tomatoes, chopped
Large handful of fresh coriander and mint, chopped
2 – 3 tbsp yoghurt
Salt, to taste
Serves: 4 – 6 | Suitable for vegetarians
METHOD
Cut the potatoes in half, boil until cooked, drain and then leave to cool.
Heat the oil in a large frying pan, fry the onion and Bombay Potato pack for 4 – 5 minutes, until the onion is soft.
Take the pan off the heat, add the lemon juice and fold through the potatoes.
Transfer the potato mix to a salad bowl and add the spring onions, tomatoes, coriander and mint.
Add the yoghurt and mix to create a thin coating on the potatoes.
Season well with salt, to taste.
Enjoyed this? Make sure you enter our competition with Rafi's Spicebox here: https://www.fairfieldsfarmcrisps.co.uk/national-curry-week-competition-with-rafis-spicebox/
STOCK UP ON OUR FARM FRESH NEW POTATOES
You can order our 6 x 750g bags of new season baby potatoes PLUS 3kg washed large baking potatoes for £15 including free delivery nationwide.
Alternatively, for the best value, you can add a big box of our hand cooked crisps for £25: https://fairfieldsfarmcrisps.co.uk/product/baby-potatoes-washed-large-potatoes-1-box-of-6-x-150g-mixed-crisps/