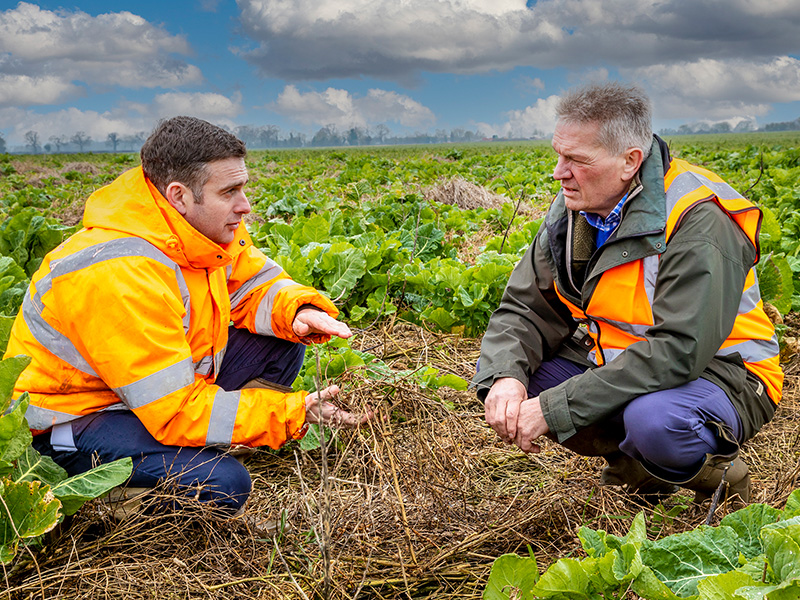 We've partnered with Essex Climate Action Commission to help us, and our region, get to grips with actions we can all take to reduce our emissions. They've launched a free Climate Action Business Advice pack for Essex organisations, and we will definitely be taking a few tips!
Recently, we were visited by Cllr Peter Schwier – who has the wonderful title of 'Climate Czar' at Essex County Council – to mark the launch of this new climate action toolkit. It's full of useful, practical advice on putting together a sustainable business plan which protects natural resources. The suggestions range from big changes to small cumulative improvement – not all of which cost money! Here's what their press release says about us:
"
A visit to Fairfields Farm
Located in the Colne Valley in North Essex, Fairfields Farm is a family business owned by third generation farmers Robert and Laura Strathern. It grows and harvests potatoes, which are either packed and shipped or hand-cooked at the on-site factory to become artisan crisps sold across the region.
Fairfields Farm has begun a proactive journey towards net zero, reducing carbon emissions where possible. Alongside hedgerow restoration and maintaining over 5% of land as carbon-capturing wild bird habitat, the farm has created a water management system complete with reservoirs to store excess water for use in the summer months.
The farm also recently embarked on an anaerobic digestion plant project. The plant generates methane gas, which is not only supplied to the gas grid as renewable energy but provides fertiliser to the farm's potato crops as a natural by-product too. The waste oil from the production of the crisps is sent for refinement and recycling into biodiesel fuel for tractors.
Fairfields Farm has been praised by Essex County Council as a business making sustained and proactive efforts to reduce its impact on the environment, with the farm hoping to reach net zero as quickly as possible. The farm recently welcomed Cllr Peter Schwier – who is a local former farmer alongside his role as Climate Czar at Essex County Council – to see these measures in action.
Speaking after his visit Cllr Peter Schwier said: "It was a pleasure to visit Fairfields Farm. They are a fantastic example of a local business that is already taking decisive action to combat climate change. The whole production line at the farm is all about sustainability as they grow, harvest and process all the produce themselves.
"Agriculture is responsible for 24% of greenhouse gas emissions and it's really important to tackle this, with farmers playing their part towards becoming net zero. This type of sustainable business is exactly what we want to see more of in Essex, by taking the lead and being proactive towards becoming carbon neutral going forward."
The future of farming
More than 60% of Essex is farmland. Encouraging farmers and landowners to adopt 'sustainable land stewardship' is a key priority for Essex County Council's plan to reach net zero as set out in the Essex Climate Action Commission's (ECAC) Net Zero: Making Essex Carbon Neutral report, which was published in 2021.
Robert Strathern, Co-Founder at Fairfields Farm Crisps, said: "As we've evolved as a business, we've understood how important it is to look after the environment and tried to do lots of things in the last two years to reduce our impact.
"We ensure that we have green cover crops in the ground at all times of the year which means that the carbon in the atmosphere is constantly being removed. We're also restoring and planting hedges across the farm, with 1.5km planted last winter alone, and we're planning tree planting projects this year which the whole local community will get the chance to be involved in.
"You can't control what's going on in the rest of the world, but you can control what your own business is doing, and we can see real benefits by working in this sustainable way."
The Climate Action Business Advice Pack is available to view and download at https://bit.ly/ClimateAdviceBusinesses.
"