We want to do as much as we can to help during these difficult times, so seeing as growing and farming delicious, big potatoes (and turning some of these into scrumptious crisps!) is what we do best, we have worked to offer you the best deals possible, to make sure your kitchens are stocked up with good quality, sustainable food.
We've teamed up with Parcelforce so that we can deliver our home-grown potatoes to anywhere on the British mainland. They are delivered in cardboard boxes with no plastic. This prices we are offering are typically cheaper than many supermarkets and they are delivered direct to your door free, fresh from our family farm.
OUR COMBO DEALS
Our combo deals offer boxes of our large, nutritious potatoes which contain 30% of your daily vitamin C requirement, (great for your immune system!) alongside bags of our hand cooked crisps in the nation's favourite flavours – all gluten-free and vegan.
Our combo deals are excellent ways of getting amazing quality, British grown potatoes and crisps delivered straight to your doorstep, for less cost than typical supermarket prices. We have also made sure you're getting excellent savings in our deals when buying potatoes and crisps together, by cutting the cost by at least £5! Choose whether you want our 40g packs of crisps or the 150g packs, select your favourite flavour or get a mix to keep everyone happy.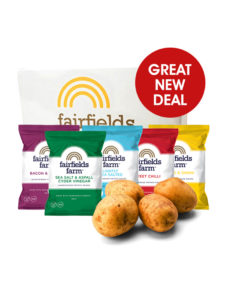 GET SNACKING ON OUR GLUTEN FREE, VEGAN CRISPS MADE WITH RENEWABLE ENERGY
Our hand-cooked crisps are perfect for snacking and to accompany your evening tipple. Choose between bag sizes of 40g or 150g, mixed flavours or select from your favourites. Our flavours include: Lightly Sea Salted, Sea Salt and Black Pepper, Sweet Chilli, Bacon and Tomato, Cheese and Onion, Sea Salt and Aspall Cyder Vinegar and more! We only use the very best potatoes for our crisps – the ones that we have grown ourselves! Our crisps are made with renewable energy and our packaging for delivery is in cardboard boxes – plastic free. Being as eco-friendly as possible is really important to us, you can read more about how we're doing our best to be as sustainable as possible here.

STOCK UP ON OUR NUTRITIOUS POTATOES
Our potatoes are not only packed full of vitamin C, they're also high in fibre, protein and contain more potassium then a medium sized banana! Our baking potatoes make great no fat, no salt, no cholesterol healthy meals – and are also really good value. Each box contains 15Kg of potatoes and will contain 40-50 potatoes.  This is between 30-37p per baking sized potato portion – great value for a meal!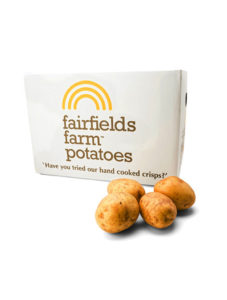 LOCAL DELIVERY ONLY OFFERS
Our large 25kg sacks of potatoes are available for local delivery within the Colchester postcode area. We are also trialling new veg boxes locally which are stuffed with delicious fresh vegetables and of course potatoes.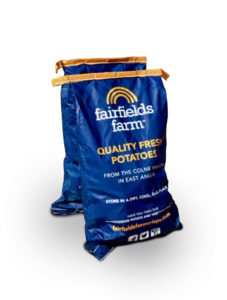 So, support your British farmers and let's work together to get food to the nation's doorsteps! (plus, getting a delivery is far easier than having to carry heavy potatoes home from the shops).