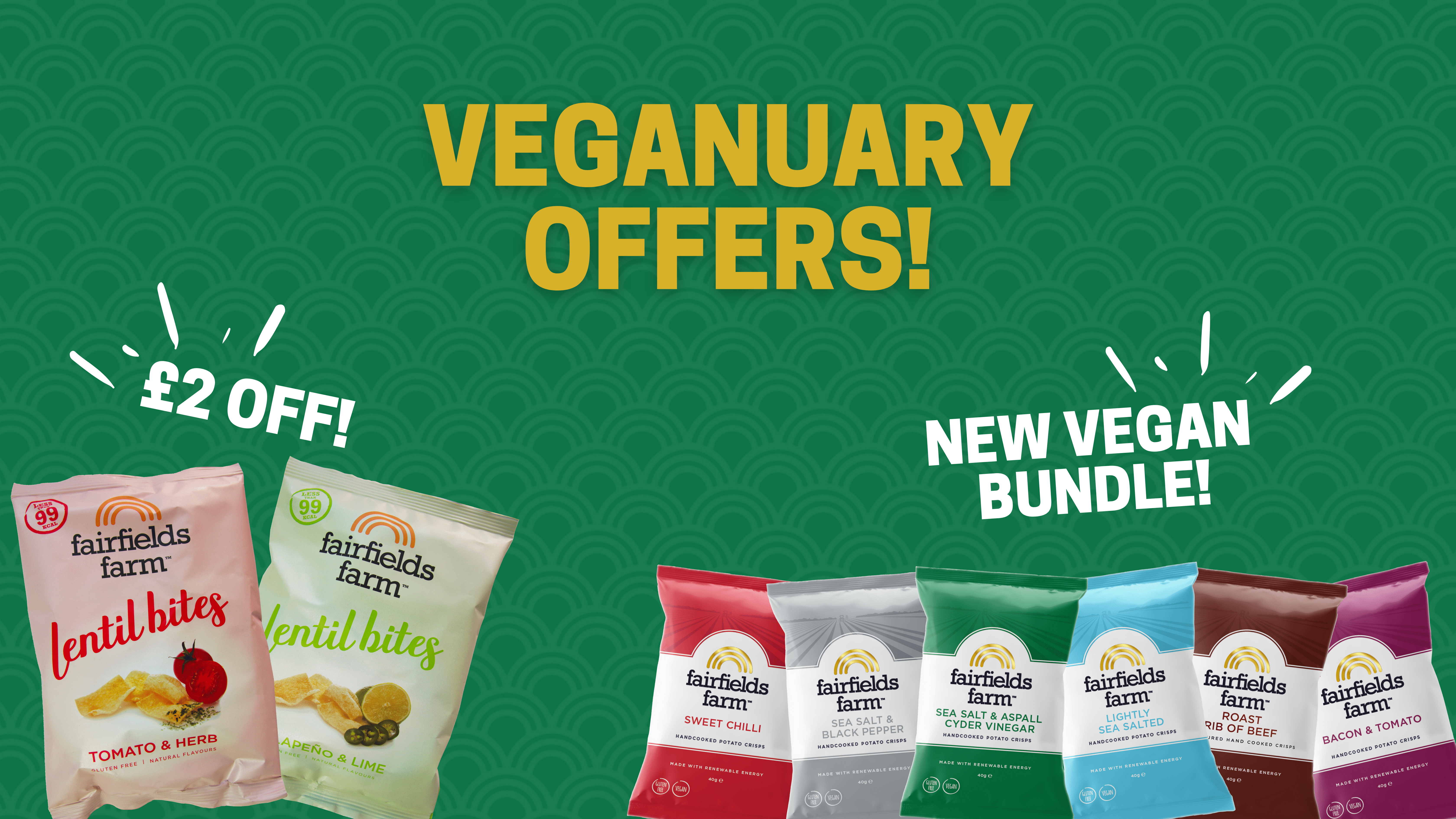 It's veganuary!
After indulging over Christmas, this is the time that many of us will start to reconsider what we are eating. Trying out veganism is something that has become increasingly popular with the rise of Veganuary. Last year a record 400,000 people took the pledge to adopt a vegan diet for 31 days and if you are trying it for yourself, we have some special offers to help you along the way.
When you think of a vegan diet, you might think of something bland and boring, a plate packed with vegetables and not much else. But did you know that the majority of our crisps are naturally vegan? Yes, even our Bacon and Tomato and brand new Roast Rib of Beef flavours!
Introducing the Fairfields Vegan Bundle
Our new Vegan bundle created exclusively for Veganuary features Lightly Salted, Salt & Vinegar, Sweet Chilli, Salt & Cracked Pepper, Bacon and Tomato and Roast Rib of Beef. This will come in both our 40g and 150g sizes.
Making a dramatic change to your diet is tough to stick to, so make sure you have go-to tasty treats to keep you on track!
Order our 12x 150g Vegan bundle here
Order our 24x 40g Vegan bundle here
Save £2 on our Lentil Bites
If you are looking for something slightly healthier, we are also offering you £2 off both delicious flavours of our Lentil Bites: Jalapeno & Lime and Tomato & Herb. With less than 99 calories per pack and totally vegan ingredients, they are the perfect guilt-free snack for Veganuary.
Order 18 x 20g packs of our Tomato & Herb Lentil Bites here
Order 18 x 20g packs of our Jalapeno & Lime Lentil Bites here