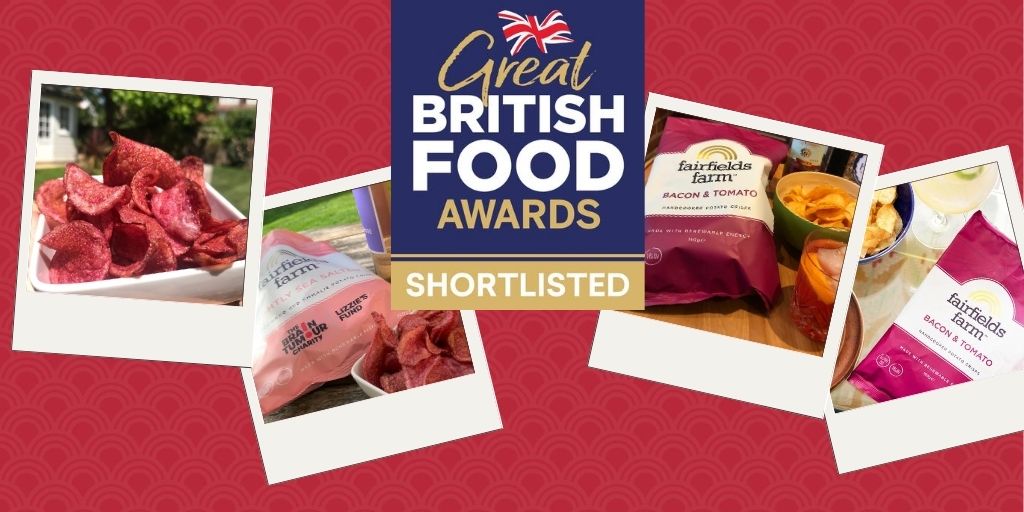 We are so excited to let you know that our Red Emmalie Lightly Sea Salted Crisps and Bacon & Tomato Crisps have been shortlisted for the Great British Food Awards 2020 in the Savoury Snacks category. They are now with chef Michel Roux Jr for judging.
The bacon and tomato flavour crisps are unusual in that they are vegetarian, vegan and gluten free. A delicious combination of subtle bacon flavours with sweet and tangy tomato, they are available to order online in big boxes of 12 x 150g or 24 x 40g bags. Order them here: https://fairfieldsfarmcrisps.co.uk/shop/
We are particularly excited about the Red Emmalie Lightly Sea Salted Crisps getting recognition. They are particularly close to our hears as 20p from every bag sold goes to The Brain Tumour Charity & Lizzie's Fund. The crisps are delicious: an amazing pink colour, they have a delicious taste. Find out more about these special charity crisps here: https://fairfieldsfarmcrisps.co.uk/give-back-when-you-snack-with-our-red-emmalie-crisps/  
We hope that you might like to judge them for yourself. When you order our hand cooked crisps on our website, they are delivered straight from the farm to your door for free!