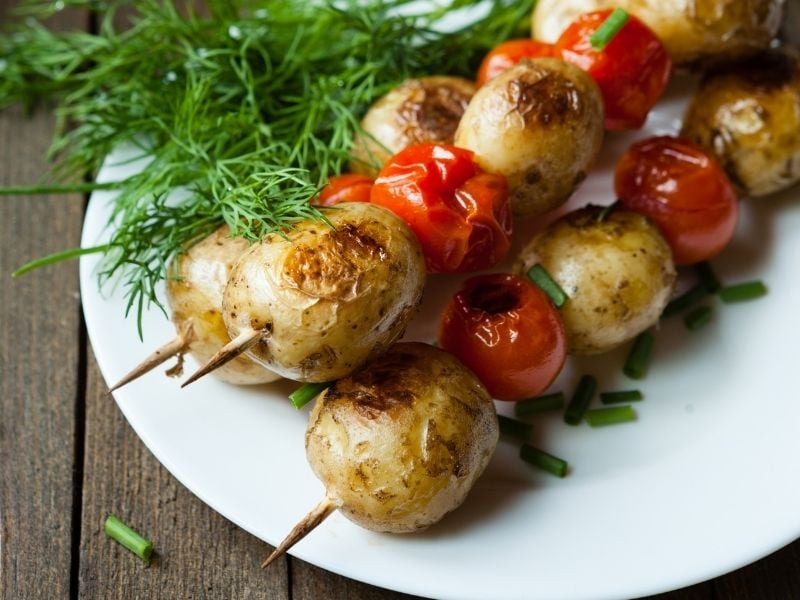 BBQ season is in full swing, but have you ever tried grilling potatoes? Here's a recipe to bring something different to your next summer gathering!
INGREDIENTS
750g Fairfields Farm BabyPotatoes
½ cup water
½ cup light mayonnaise
¼ cup dry white wine
2 teaspoons crushed dried rosemary
A handful of dill
Cherry tomatoes
1 teaspoon garlic powder
6-8 wooden skewers, soaked in water for 30 minutes
METHOD
Place the potatoes and water in a bowl and cook in a microwave on high until just tender, for about 15 minutes, stirring halfway through.
Drain potatoes and allow to steam for a few minutes to dry.
In a large bowl, stir together mayonnaise, wine, rosemary, and garlic powder.
Mix in drained potatoes and toss to coat. Cover and leave to marinate in the fridge for at least an hour.
Preheat an outdoor grill for high heat and lightly oil grate.
Remove potatoes from marinade, and skewer alternating with the cherry tomatoes.
Grill, covered, for 6 to 8 minutes, brushing occasionally with marinade, turning halfway through.
Remove potatoes from the skewers and serve with the fresh dill. Enjoy!
Enjoy!
FARM FRESH POTATOES AND HANDCOOKED CRISPS DELIVERED TO YOU MONTHLY
Did you know our monthly potato and crisp subscription boxes come with a featured recipe like this one from July?
One box will provide you with loose bakers, baby potatoes, chipping potatoes and roasting potatoes making up 26 servings of potatoes for meals overall. Plus, because they are farm fresh, they will last you all month – though be sure to store them in a cool, dark place.
With this subscription box, you can also select your favourite flavours of our hand cooked crisps, choose from any combination of our 7 flavours to suit your tastes – or to please the whole family!