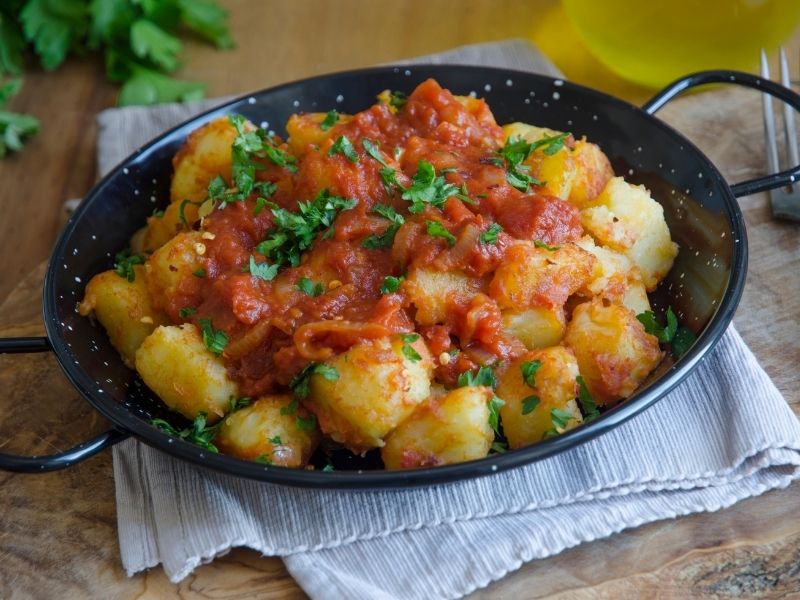 Get a taste of Spain from home this summer with this delicious patatas bravas recipe, but keep it local by pairing with Stokes Garlic Mayonnaise!
INGREDIENTS
For the sauce:
4 tbsp extra virgin olive oil
1 small onion, chopped
2 garlic cloves, chopped
½ 227g can chopped tomatoes
2 tbsp tomato purée
2 tsp smoked paprika
Pinch of chilli powder
Pinch of sugar
Chopped fresh parsley, to garnish
For a side:
Stoke's Garlic Mayonnaise
For the potatoes:
750g Fairfields Farm Baby Potatoes (roasting, chipping and baking potatoes could also work!)
METHOD
Heat 2 tbsp oil in a saucepan and add the chopped onion, fry for about 5 minutes until softened.
Add garlic, tomatoes, tomato purée, paprika, chilli powder (as much as you can handle!) and sugar then bring to the boil, stirring continuously.
Simmer for 10 minutes until pulpy.
Set the sauce aside.
Preheat the oven to180°C/200°C/gas mark 6.
Take the cubed potatoes and pat dry with kitchen paper.
Spread over a roasting tin and toss the potatoes in 2 tbsp oil, season with salt and pepper.
Roast for 30-40 minutes until the potatoes are crisp and golden brown.
Gently reheat the sauce in a saucepan. Tip the potatoes into dishes and spoon over the sauce, then sprinkle with the parsley.
Serve alongside aioli or Stoke's Garlic Mayonnaise
Enjoy!
FARM FRESH POTATOES AND HANDCOOKED CRISPS DELIVERED TO YOU MONTHLY
Did you know our monthly potato and crisp subscription boxes come with a featured recipe like this one from July?
One box will provide you with loose bakers, baby potatoes, chipping potatoes and roasting potatoes making up 26 servings of potatoes for meals overall. Plus, because they are farm fresh, they will last you all month – though be sure to store them in a cool, dark place.
With this subscription box, you can also select your favourite flavours of our hand cooked crisps, choose from any combination of our 7 flavours to suit your tastes – or to please the whole family!