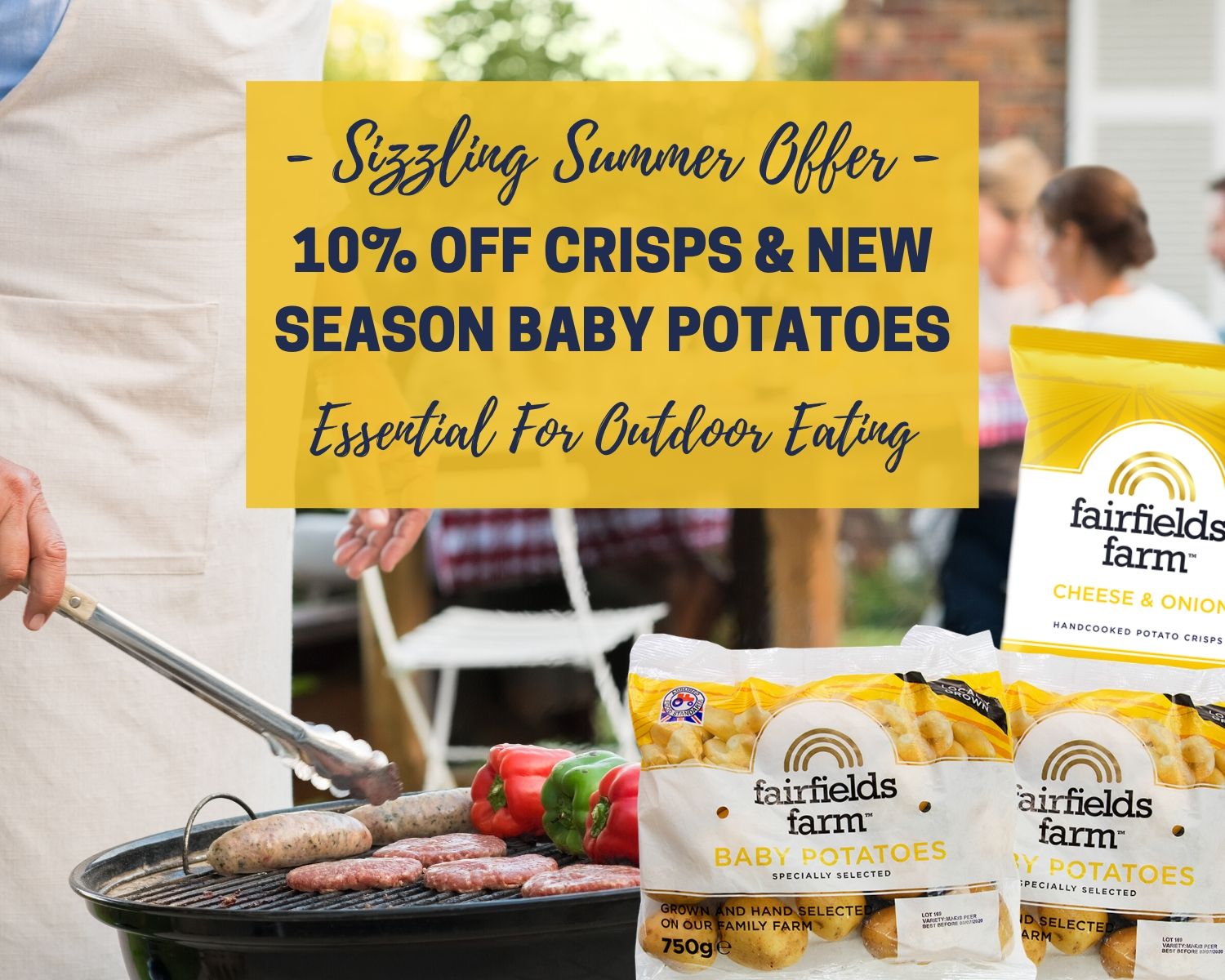 Early summer on the farm can only mean one thing: our new baby potatoes are ready! We are keeping very busy on the family farm at the moment harvesting the first crops of our delicious new potatoes.
To celebrate, we are offering you 10% off everything online. Just enter the code: NEWSEASON10 at the check out for fresh potatoes delivered from our farm to your door.
Simply boiled for c. 15 minutes our nutritious baby potatoes pop in the mouth and we think they make the best accompaniment to summer dishes.
The classic way to serve our fresh baby potatoes is with butter and fresh mint, essential to accompany your BBQ. You also might like to whip up a potato salad for a simple al fresco supper at home or to take on a picnic with the kids.
T&Cs FOR 10% OFF EVERYTHING
Offer only valid for orders placed online at www.fairfieldsfarmcrisps.co.uk
This offer cannot be used in conjunction with any other discount codes available at that time on www.fairfieldsfarmcrisps.co.uk.
Offer is valid from Tuesday 30th June to Tuesday 4th August 2020.
This offer cannot be applied retrospectively.
ORDER NEW POTATOES NOW
You can order a box of 6 x 750g bags of our baby potatoes with 3kg of large washed potatoes for £15 including FREE delivery, straight from the family farm to your door.
WANT CRISPS TOO?
Don't forget the crisps! Our hand cooked crisps are made on the farm using renewable energy. Bring them out for your guests to enjoy with a drink as you wait for the BBQ to warm up, or pack them on a picnic.
Our combo deals are the best value way to buy our hand cooked crisps and potatoes. For £25 you can get the above baby potatoes and baking potatoes deal PLUS either 18 x 40g bags of crisps or 6 x 150g bags of crisps in mixed flavours. Remember that all our combo deals come with FREE DELIVERY nationwide.