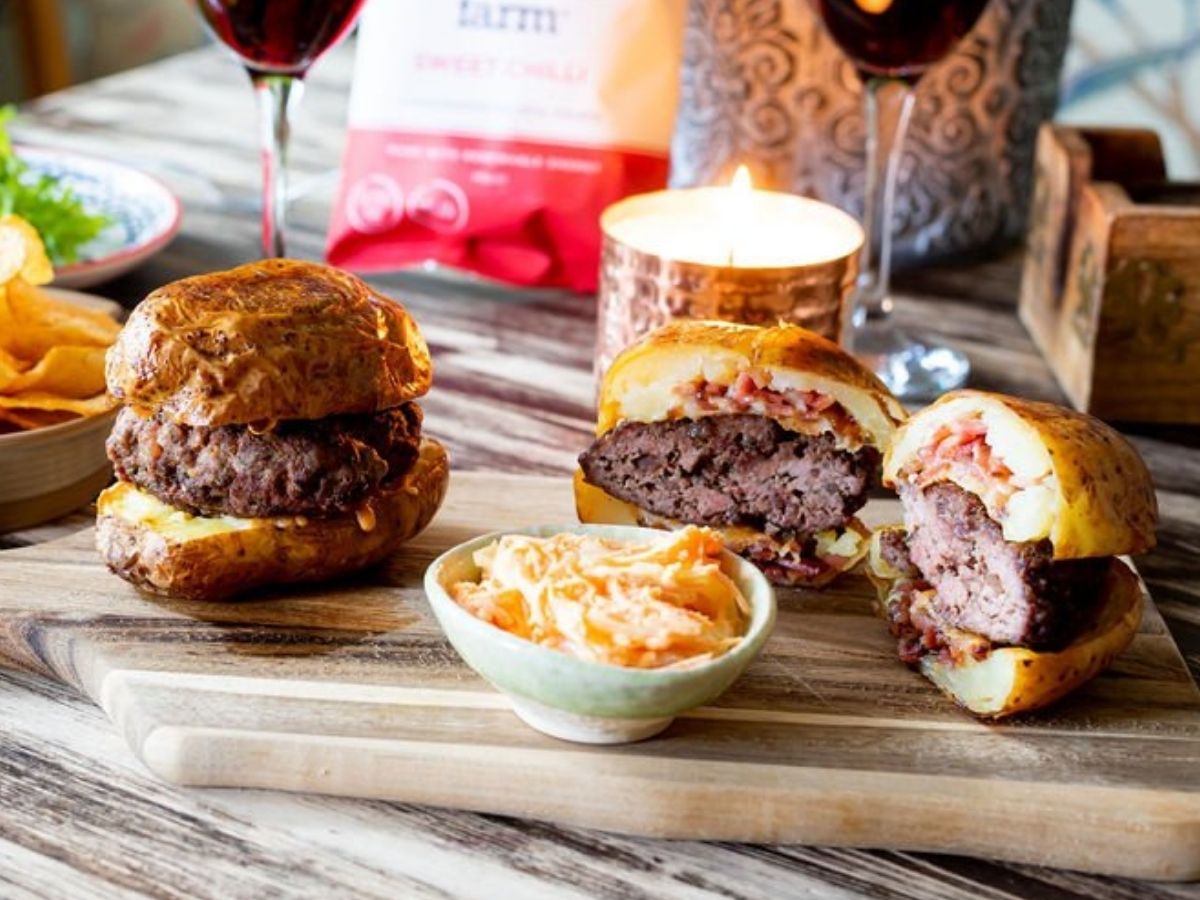 This is one of those dishes that is deliciously simple but gets everyone's attention. It's not a recipe, so much as a replacement.
Think of your favourite burger with all of the toppings you love, but use a jacket potato instead of a bun! Robert is a big fan of a cheese and bacon burger, but you can pop in gherkins, extra sauces, extra cheeses… it's up to you! Served next to a side salad, there's no need for chips.
Serves 2
INGREDIENTS
A large Fairfields Farm baking potato
Drizzle of olive oil
Pinch of Salt
Burger patty of your choice
4 x Bacon rashers
60g Vintage Cheddar, sliced
1 x White onion
METHOD
Bake your potatoes – brushed with olive oil and sprinkled with salt and baked for 20 minutes at 200oc, then a further hour at 160oc. If you're in a hurry, microwave the potatoes for 8-12 minutes depending on size, then bake for a further ten minutes drizzled with olive oil and sprinkled with sea salt.
While the potatoes cook, prepare a side salad, cover and place in the fridge. Before you put the chopping board away, slice the onion.
In the last five minutes of baking your potatoes, start to fry your bacon, onions and burger – in the same pan if you'd like, with a splash of oil if needed.
Whilst these are cooking, remove your potatoes from the over and allow to rest and cool for 5 minutes.
When your other ingredients are ready, slice the potatoes along the middle to create the bun shape, pressing an indentation into the top slice of potato or scooping out space.
Load the toppings (I recommend cheese into the indentation first, so it is nice and melty) and close the 'burger'.
Serve with a side salad and a good glass of red.
FARM FRESH POTATOES AND HANDCOOKED CRISPS DELIVERED TO YOU MONTHLY
Did you know our monthly potato and crisp subscription boxes come with a featured recipe like this one?
One box will provide you with loose bakers, baby potatoes, chipping potatoes and roasting potatoes making up 26 servings of potatoes for meals overall. Plus, because they are farm fresh, they will last you all month – though be sure to store them in a cool, dark place.
With this subscription box, you can also select your favourite flavours of our hand cooked crisps, choose from any combination of our 7 flavours to suit your tastes – or to please the whole family!
Shop now at https://fairfieldsfarmcrisps.co.uk/shop/