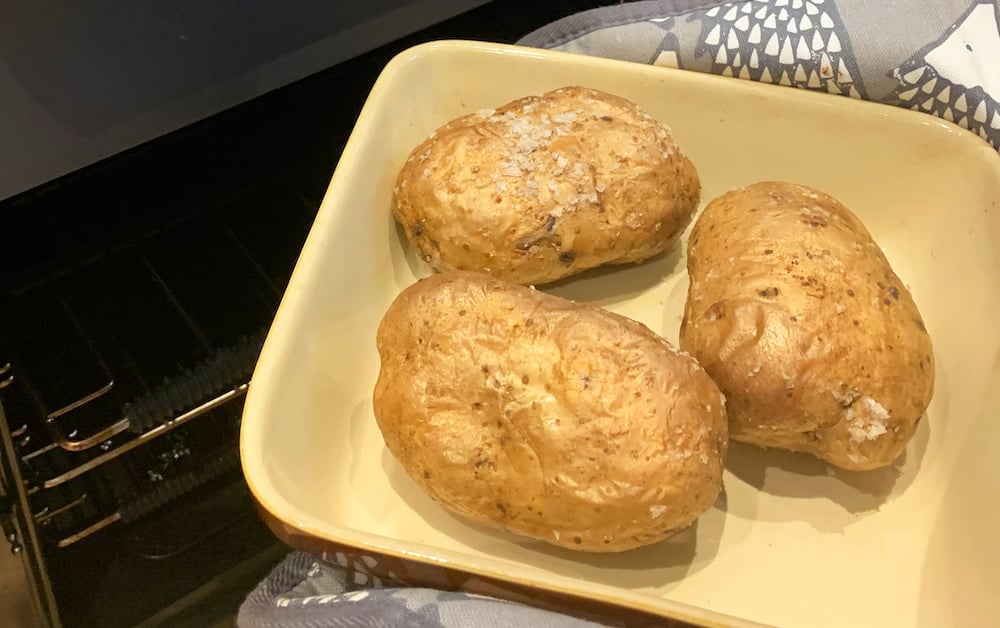 We are all spending much more time at home at the moment, but one of the benefits of this is having more time to prepare and enjoy a delicious lunch.
There's something so comforting about a deliciously crispy, oven-baked jacket potato topped with melted butter. It's nutritious and so versatile, making a simple, tasty lunch for all the family!
Here are our top tips for getting that perfect crispy skin and fluffy centre for your jacket potato:
Pre-heat the oven to 180C
Choose a medium to large potato and give it a wash and a scrub (our large washed baking potatoes are the best!)
Dry the potato and prick several times with a fork
In a ramekin or small dish, mix some olive oil with a large pinch of sea salt and brush the mixture all over the potato
Pop in the oven, directly on the middle shelf (you can put a baking tray on the shelf below if you wish)
Bake for approx. 1.5 hours or until golden and crispy on the outside and can be easily pierced with a fork. (Adjust the time if your potato is a bit smaller)
Serve straight away with lashings of butter and / or a topping of your choice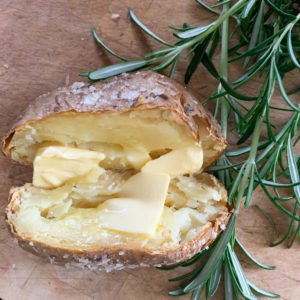 Here are some of our favourite baked potato toppings:
Classic tuna, sweetcorn and mayonnaise
Prawns with soured cream, a squeeze of lemon and a sprinkle of black pepper
Baked beans, topped with grated cheese – a real comfort food
Spicy chilli (meat or veg) topped with a dollop greek yoghurt
Smoked salmon and cream cheese – an indulgent treat
Hummus and salad – a delicious dairy-free alternative
Shop our new 9kg box of baking potatoes
Treat yourself to a winter warmer lunch with our delicious baking potatoes, or add some comfort to your evening meal!
Our new 9kg box of baking potatoes is the perfect size to stock up for your family with FREE DELIVERY nationwide delivery.