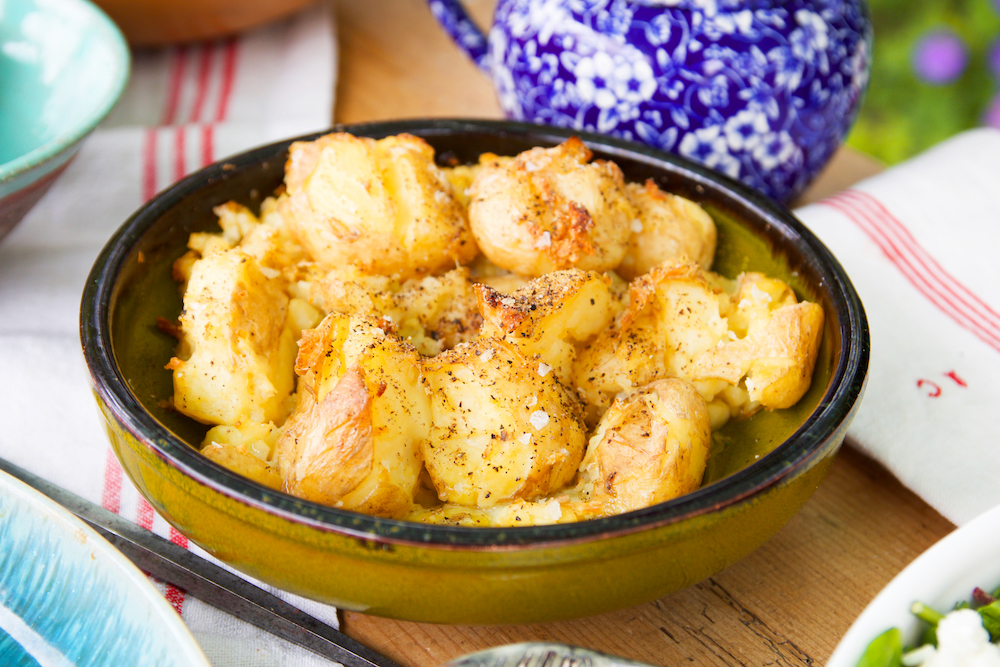 We are excited to share with you a guest recipe from the Sutton Hoo Chicken farmhouse. These crushed, roasted new potatoes with garlic are a family favourite of Sutton Hoo Chicken Founder Belinda Nash and go really well with a marinated spatchcock Sutton Hoo Chicken which can be cooked in the oven or enjoyed with a summer BBQ.
Serves 4
INGREDIENTS
1 Bulb Garlic
1 tsp Salt
2 tbsp Olive Oil
METHOD
Rinse off the new season baby potatoes, cutting the bigger ones in half to ensure they all cook evenly. Then drop into a pan of boiling water, along with salt and 3-4 whole, peeled cloves of garlic.
Pierce them to check they are cooked through, then drain the potatoes, discarding the garlic.
Toss them into a roasting dish, in a single layer. Then 'crush' them gently with a potato masher or fork – just to break the skin, not so they fall apart completely.
Drizzle a two spoonful's of olive oil over the potatoes, just to coat them. Along with 3-5 crushed cloves of garlic and a generous sprinkle of salt.
Gently give the potatoes a good stir and place the tray in a hot oven, roasting until the turn brown. Halfway through roasting, you can add some chopped rosemary for extra flavour!
In celebration of locally produced, Great British Food, we've teamed up with Sutton Hoo Chicken this Autumn and are giving away an amazing prize, to one lucky winner! Make sure you get in the draw to win:
6 x 750g bags of Fairfields Farm New Potatoes
3kg Fairfields Farm Washed Large Potatoes
18 x 40g bags of Fairfields Farm Crisps in mixed flavours
3 x whole Sutton Hoo Chickens.
What better way to pair your crushed, roasted new potatoes then with a delicious chicken and salad? Why not try a Sutton Hoo Chicken cooked in a traditional Spatchcock method with Lemon and Herbs. This, and many other chicken recipes are on the Sutton Hoo Chicken website.
STOCK UP ON OUR FARM FRESH NEW POTATOES
You can order our 6 x 750g bags of new season baby potatoes PLUS 3kg washed large baking potatoes for £15 including free delivery nationwide.
Alternatively, for the best value, you can add a big box of our hand cooked crisps for £25: https://fairfieldsfarmcrisps.co.uk/product/baby-potatoes-washed-large-potatoes-1-box-of-6-x-150g-mixed-crisps/