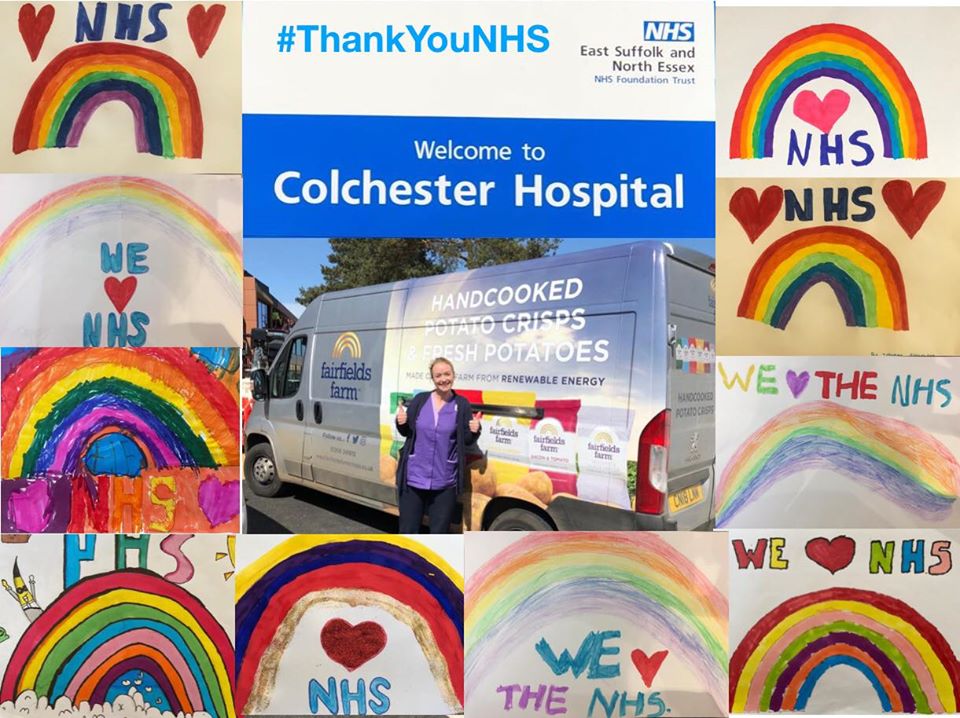 Last week we made a delivery of 480 bags of our hand-cooked crisps to Colchester Hospital, giving the fabulous doctors a nurses a welcome treat as they tackle Covid-19 on the front line.
As we pulled up outside the hospital we saw our amazing friend Francis who is a nurse at the hospital, and couldn't resist taking a picture. We would also like to thank Immy, Angus, Bella, Issy, Millie, Poppy, Harrison, Austin & Emma for the beautiful rainbow drawings!
The business, which produces potatoes and hand-cooked crisps on its farm in Colchester, wanted to do something to thank the team at our local hospital during this difficult time.
"As a business, we are always looking at ways to support our local community," explains Laura Strathern, co-founder of Fairfields Farm. "We appreciate everything that our frontline workers are doing and wanted to give  them something that might brighten their day and keep them refuelled as they tackle this dreadful virus."
Fairfields Farm has pivoted its business dramatically in the last few weeks to provide national free delivery of home-grown potatoes and crisps, as well as a new free local delivery service of veg boxes, all ordered through the website.
Boxes of potatoes and crisps are now going out across the UK as people continue to shop online and avoid the supermarkets.
"We're getting orders from all over the country," continues Laura. "We've made it as easy as possible for people to order what they need online and are offering a free delivery service, as well as a local veg box scheme to the surrounding areas, with a door to door delivery service for those who are vulnerable or self-isolating."
Order our fresh potatoes, veg boxes and boxes of crisps with free delivery >