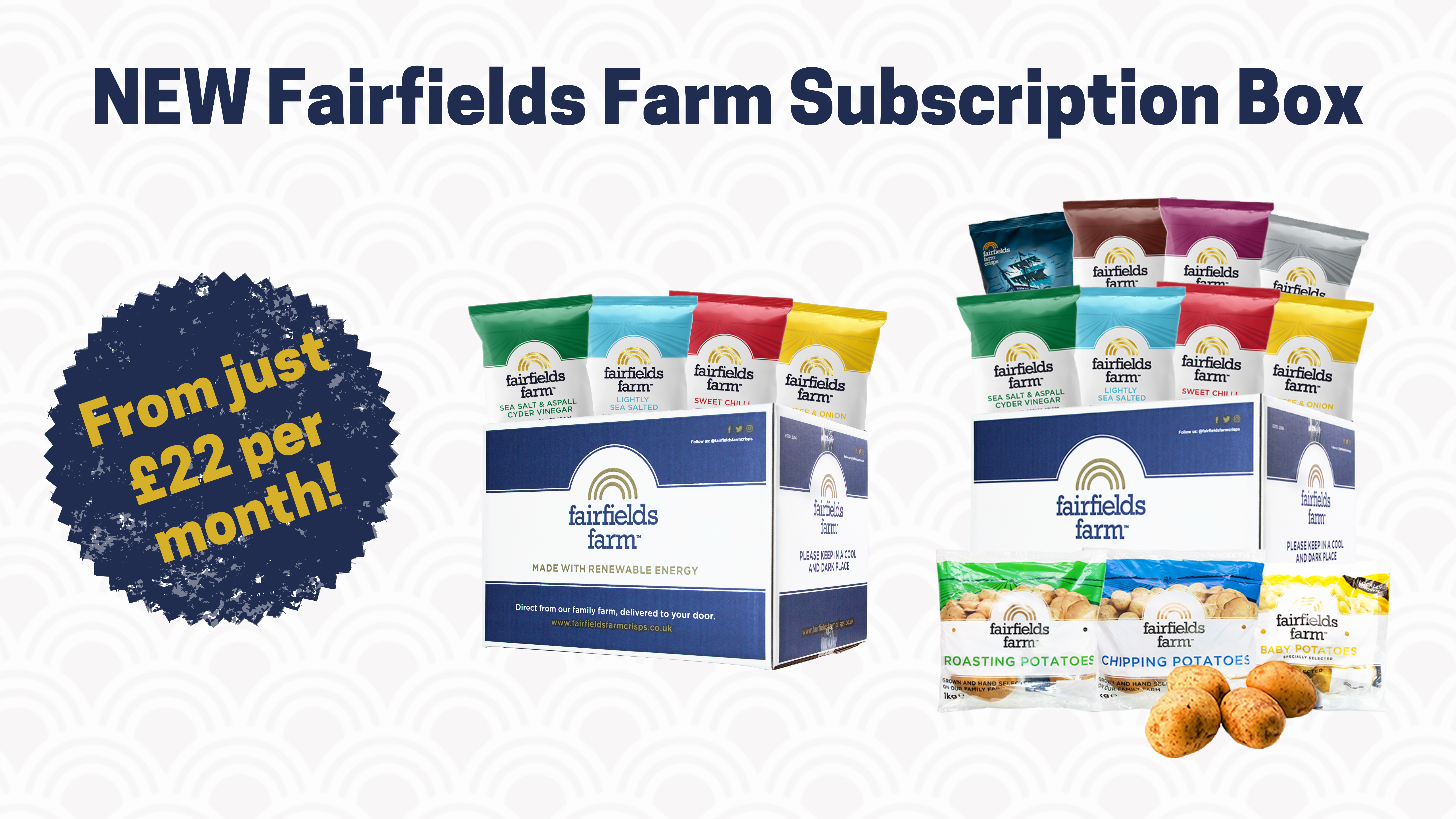 What could be better than delicious, provenance packed crisps and potatoes delivered straight to your door each month? With the new Fairfields Farm monthly subscription box, you'll never run out of snacks or spuds again! 
Produced using hand-selected potatoes and 100% renewable energy, family-run crisp brand, Fairfields Farm, has just launched two versatile subscription boxes for potato and crisp lovers nationwide: the Potatoes & Crisp box and the Pick & Mix Crisp Box.
For the first time, Fairfields Farm fans can order a regular box of its home-grown, British potatoes and lovingly-made handcooked crisps to be delivered directly to their door.  
The mixed Potatoes & Crisp box contains 16 large baking potatoes, 2 x 1kg Roasting potatoes, 2 x 1kg Chipping potatoes, 2 x 750g baby potatoes, plus 8 x 150g bags of Fairfields crisps bags for £35 per month, giving a family a whopping 26 potato servings per box. There are even recipe cards and potato variety guides included to ensure you can create the best mash, chips and roasties ever! 
If you prefer a crisp-only box, choose the Pick & Mix Crisps subscription box where you can select 8 x 150g bags or 24 x 40g bags of Fairfield's delicious hand-cooked crisps; in any combination of flavours you like, for £22 per month.
Choosing your favourite flavours from 6 tasty vegan crisp flavours: Roast Rib of Beef, Bacon & Tomato, Lightly Sea Salted, Sea Salt & Aspall's Cyder Vinegar, Sweet Chilli, Sea Salt & Black Pepper Sea crisps, plus Cheese & Onion flavour which is suitable for vegetarians and Adnams Ghost Ship crisps which are gluten-free like the entire range.
Whichever subscription box you opt for, there is total flexibility: you can change the flavours of the crisps, pause your subscription or cancel at any time. 
GIVE OUR SUBSCRIPTION BOX A TRY WITH 15% OFF YOUR FIRST MONTH
Fairfields Farm has created a special launch offer which gives you even more reason to try this subscription for yourself, order your first month's subscription from just £18.70 including FREE delivery, straight from the farm to your door. Just use the code SUBSCRIPTION15 at checkout.