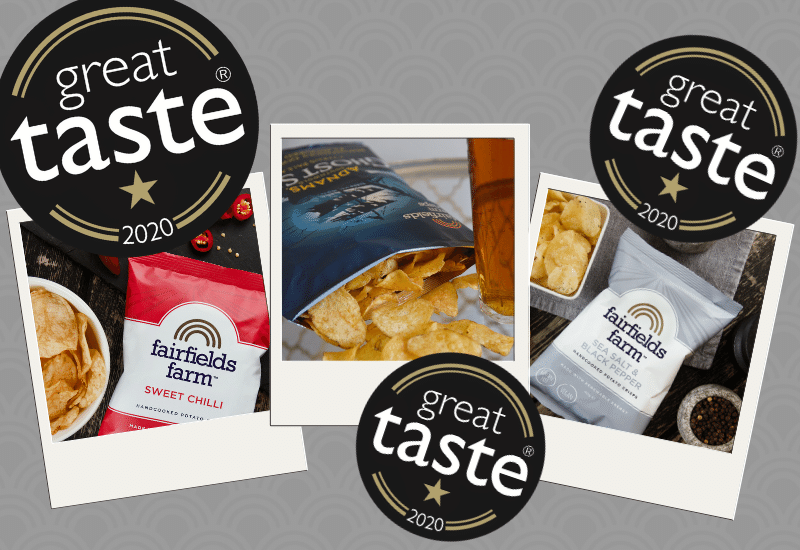 We are over the moon to announce that we have been awarded three Great Taste Awards for three flavours of our delicious crisps!
The Great Taste Awards are the most trusted food and drinks awards within the UK, bestowing their badge of honour to some of the most delectable produce our nation has to offer. All the products awarded are judged by their panel of 500 experts, who give honest and impartial feedback on every product they try.
We are humbled to receive not one, but three awards for our hand cooked crisps: Sea Salt and Black Pepper, Sweet Chilli and Adnams Ghost Ship.
Our Sea Salt and Black Pepper crisps offer a sophisticated twist on a classic flavour, bringing together a light sprinkle of natural sea salt and the warmth of the finest ground peppercorns, they truly have a distinctive flavour! Click here to try our seasoned favourite.
We spiced things up with our Sweet Chilli crisps, working closely with The Chilli Company, to use the freshest ingredients with a fiery kick. This is mellowed out with the slightly sweet taste, offering a punchy crisp for those spice lovers out there. If this is you, click here to give them a taste.
Nothing compliments a good pint like a packet of crisps, which is why we team up with Adnams, a local East Anglian brewery, to create a flavour which matched the taste of their famous Ghost Shop pale ale. The flavour is hauntingly good – if you don't believe us click here to give them a try.
Or try a selection of our flavours!
Our new selection of 24 x 40g bags of hand cooked crisps contains both our Sea Salt & Black Pepper and Sweet Chilli flavours as well as 4 other of our most popular flavours. This selection is also specifically selected to contain our flavours that are naturally vegan friendly and all of our crisps are gluten-free so they are perfect for everyone to enjoy!