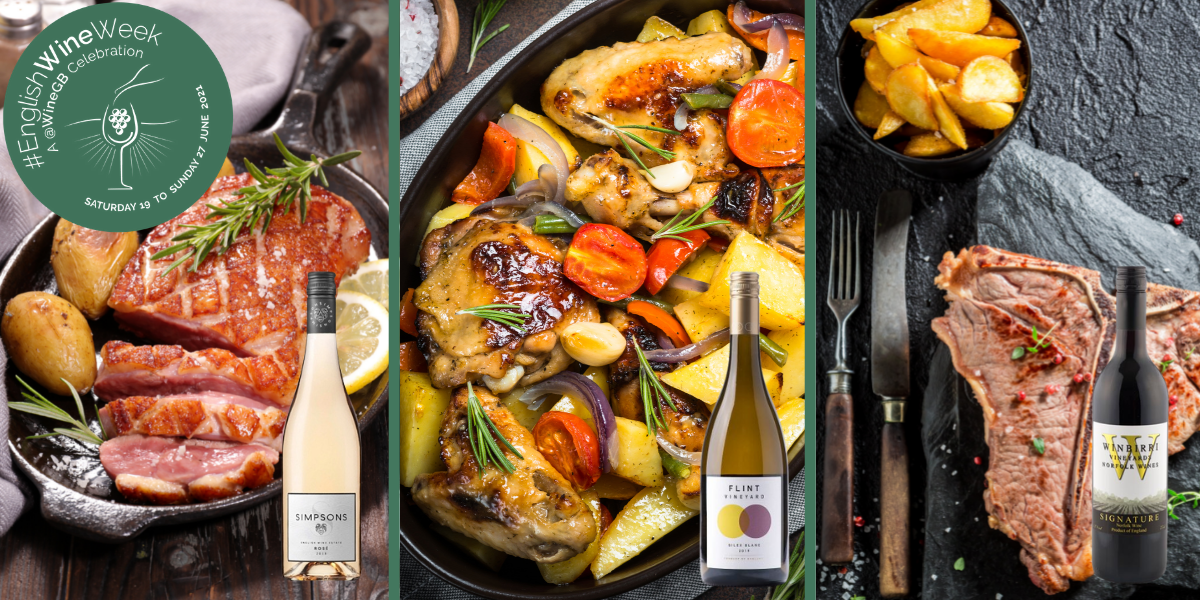 English Wine Week takes place from 19th-27th June 2021 and is a chance to celebrate the great work done by winemakers across the country producing superb wines year on year. Whether you're a fan of a red, white, rosé, or sparkling wine, there's a vineyard in the UK producing top-notch wine for you to try and enjoy!
We wanted to bring to your attention just a few local producers and some great food pairings for you to enjoy them with.
STEAK WITH HOME COOKED CHIPS & RED WINE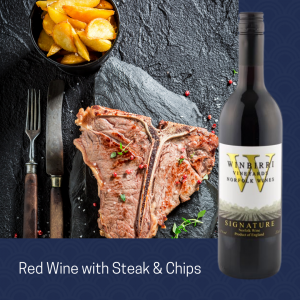 This may be an obvious one, but no one can disagree it is a favourite across the board, red wine & steak, name a better duo…
Looking for a red wine to pair with steak means bold flavours to stand up against the strong taste of beef. Winbirri Vineyards in Norfolk has just what you need. Their 'Signature' red wine, with tasting notes of "Bold ripe red berry fruit and spicy, oak aromas. Broad and expansive on the palate, with rich thick black fruit balanced by crunchy red berry flavours". This is just what you need to make a memorable meal with flavours that complement each other on every level.
But that is half the task, a great wine needs a great quality steak.
Deersbrook Farm in Essex produce 100% grass fed beef predominantly from their Native Sussex cattle. You will find their beef to be a deep plummy red with creamy coloured fat, showing that the cattle have lived in natural premium conditions. What really stands out is that they allow the beef to dry age, maturing naturally on the bone for 28 days, to develop the flavour and texture of the meat. The perfect side? It has to be home-made chips made with Fairfields Farm chippers; this variety of potato will crisp up perfectly with a light and fluffy centre helping to create a meal you won't forget in a hurry!
SUMMER CHICKEN TRAYBAKE & WHITE WINE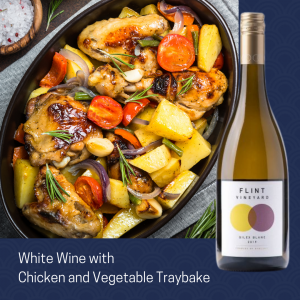 Another great local wine producer is Flint Vineyard, primarily producing lighter tasting wines, perfect for the summer months. A standout variety is their Silex Blanc, (silex is French for "Flint"). This wine is a blend of Pinot dominant varieties, including Pinot Noir, Pinot Blanc, Pinot Gris and Chardonnay. All this leads to a wine full of apricot and toasty, nutty flavours with a soft, elegant texture.
An ideal pairing for this fragrant and crisp wine is chicken, offering a range of flavours working harmoniously together. When it comes to chicken it is especially important to use the best! Sutton Hoo Chicken, reared in the heart of Suffolk with traditional free range farming methods and to the highest welfare standards offers exceptional depth of flavour guaranteed to impress.
A traybake allows you to add your choice of vegetables, herbs and spices to your personal preferences, and serve at the middle of the table for everyone to dig in! Fairfields Farm new potatoes roughly chopped in your traybake will add golden colour and crispy texture to compliment the equally crispy chicken, bringing the meal together to make it a summer hit.
PAN-ROASTED DUCK WITH HASSLEBACK POTATOES & ROSÉ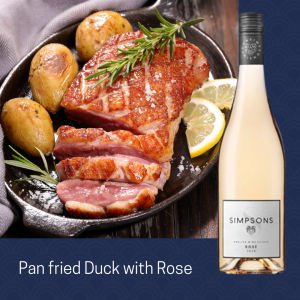 Hot summer days and rosé go hand in hand, especially when it is light and crisp. Simpsons Estate Pinot Noir Rosé is just that. Situated on the sheltered slopes of the North Downs of Kent, protected from the whimsy of the English climate by ancient woodland and anchored in chalky soils. These great growing conditions create a wine with fresh aromas of grapefruit, lime and lychee alongside stone-fruit flavours that are balanced by a crisp mouth-watering finish.
'But duck?' you might be thinking. Now hear us out…
Duck can be the perfect accompaniment to this rosé when it is pan roasted and served with orange. The acidity and sweetness of the Rosé help cut through the rich, fattiness of this duck dish to give a well-rounded eating experience. Gressingham Duck, produced on a family farm in Suffolk, is a standout choice if you are looking for responsibly reared duck to elevate your meal. Fairfields Farm potatoes in hassleback form with garlic and herbs will be a delicious addition, guaranteed to impress your dinner party guests this summer.
ASPARAGUS RISOTTO WITH SPARKLING WHITE WINE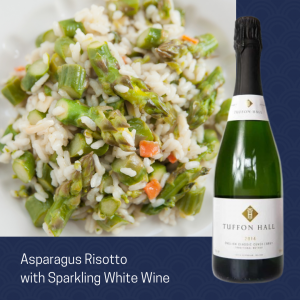 Suffolk is known for a lot of things, but did you know it has the ideal climate for growing top notch asparagus? From late April to June, these purple and green spears of goodness are in season here if only for a few months. Therefore, we are recommending you grab the last of the season and make yourself a vegetarian asparagus risotto, simple and delicious with a creamy texture that will even have meat lovers asking for more!
Tuffon Hall, a family run vineyard here in East Anglia has the perfect tipple to enjoy alongside this fantastic dish. We recommend pairing with a Tuffon Hall Sparkling White Wine, a careful blend of two of the classic Champagne varieties, Chardonnay and Pinot Meunier, and is made using the traditional method where the second fermentation is done in the bottle. It has a fresh, orchard fruit aroma, and on the palate the apple and pear continues with a hint of peach and classic biscuit note adding a level of sophistication to the smooth, refreshing finish. This is perfect to cut through the rich creaminess of a risotto but will complement the fragrant flavours of asparagus creating a perfect summer dish everyone can enjoy!
FEELING INSPIRED TO GET CREATIVE IN THE KITCHEN?
Keep your kitchen cupboards stocked with farm-fresh, quality potatoes with Fairfields Farm's NEW subscribe & save service!
Every month we will send you our essential collection including 4 varieties of potatoes:
16 x large baking potatoes
2 x 1kg Roasting potatoes
2 x 1kg Chipping potatoes
2 x 750g baby potatoes
As well as your choice of 8 different sharing bags of crisps