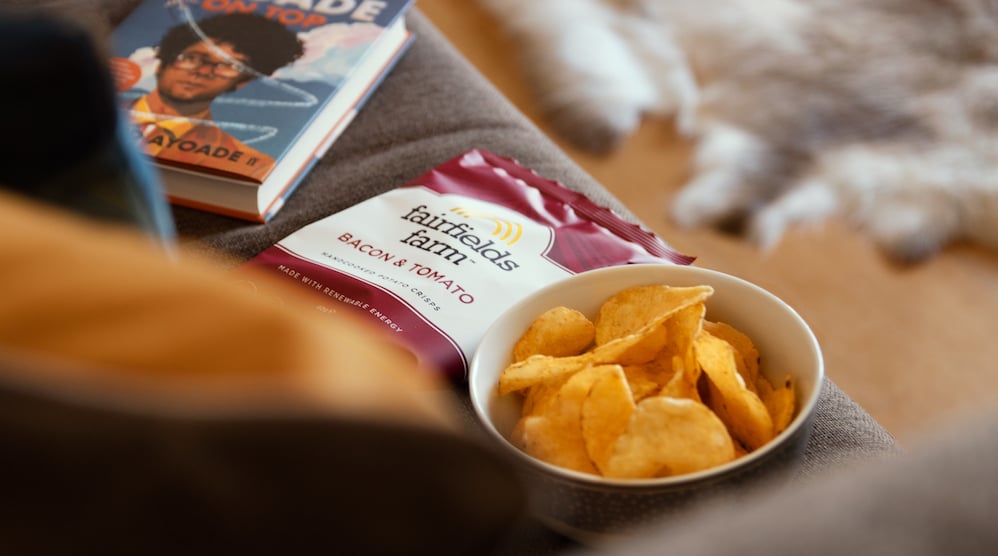 We all love a delicious packet of hand cooked crisps and can agree that a hearty serving of mashed potato is the ultimate comfort food, but did you know that potatoes have more than just yummy goodness to them? Potatoes contain fibre, vitamins, potassium and calcium, all important to a healthy diet! The fibre, potassium, vitamin C, and vitamin B6 all support heart health, while the calcium and magnesium have been found to naturally decrease our blood pressure! Potatoes also provide brilliant complex carbohydrates, which give you energy. What to do with all that energy is up to you, but we've created some fun, at-home potato themed exercises!
So, don't become a couch potato! Whilst most of us are spending more time at home at the moment, we can use all that marvellous energy to keep our bodies moving. Our large, washed potatoes are actually so big, they make wonderful weights for at home workouts. Step it up a notch and try carrying a whole bag of them around your garden for 5 minutes! There are many fitness apps that are free and specialise in at-home workouts, or if you're wanting to get out, the NHS Couch to 5K app is a wonderful way for entry level runners to get moving and earn those snacks!
Our hand cooked crisps are great for guilt-free, post exercise snacking to replace those salts you might have sweated away. They are gluten free, vegan, use natural flavours and are made with renewable energy. Perfect to enjoy with an at home picnic or with a drink on a video catch up with your friends. If you are looking for a healthier option, try our delicious Lentil Bites which have less than 99 calories per bag.
Keeping our bodies moving is not only crucial to physical health, it also helps maintaining a positive mental attitude, which is just what we need right now. Fuelling our bodies with the right food helps too, so alongside all the wonderful potatoes we're sure you're eating, remember to try your best to get that 5 a day! A fun fact about Essex based, Fairfield Farms, we don't just sell potatoes and crisps! If you're based in East Anglia, you can also get our hands on one of our fruit and veg boxes which come stuffed full of delicious and season fruit and veg, along with a healthy handful of crunchy crisps (24 bags to be exact!). We are now delivering across East Anglia including postcodes in Colchester, Chelmsford, Cambridge, Ipswich, Enfield, Norwich, Romford, Stevenage, Southend-on-Sea and Watford! Shop our fruit and veg box with crisps here >
If you're not local to the Colchester postcode area, don't worry, you don't have to miss out. We deliver for FREE our amazing combo deal box. Our £27 box will get you a whopping 15kg of large, washed potatoes and lots of scrummy crisps. Perfect for stocking up the cupboards. You can order our combo deal here >