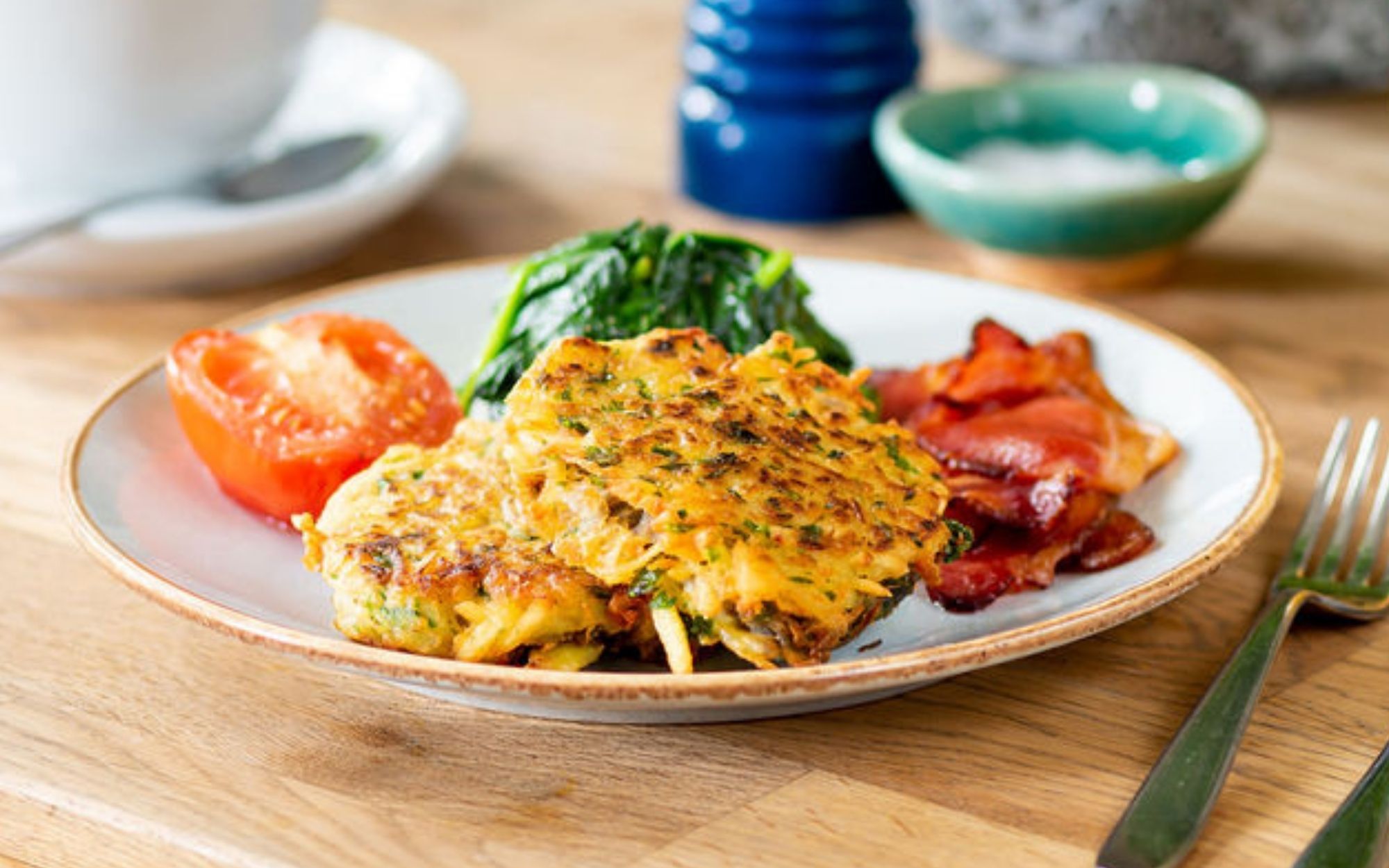 This is a great, easy recipe for when you want to impress at breakfast. You don't need to peel the potatoes and you can easily use some of the less fresh potatoes in the pantry, plus any leftover onion from last night's dinner. It's a favourite for trying to reduce food waste.
INGREDIENTS
800g of Fairfields Farm White Potatoes
1 egg
2 cloves garlic
2 red onions
100g plain flour
1tsp-2tbsp sunflower oil (see recipe)
Chopped chives (to taste)
Pinch of salt
METHOD
Grate the potatoes, then place on a clean tea towel to soak up the excess liquid. Give it a good squeeze!
Finely chop, grate or mince your garlic cloves. Finely slice the red onion.
In a large bowl, mix the potatoes with the egg, garlic, salt, onion and most of the chives, reserving some for garnish. Rest for two minutes (maybe make a cup of tea?) and then add the flour, too, mixing well. Let it rest for another 5 minutes.
While the mixture settles, heat up a large, flat-based pan with the oil. If it's non- stick, you'll only need a small bit of oil (1-2tsp). If it's not, you'll need more oil. You absolutely don't want your hashbrowns to stick.
Place about 1/8 of the mixture on the hot pan and flatten with a spatula. You can use a square or circle shaping device if you want, but we're too impatient for that!
Repeat for each hash brown, cooking for about 2-3 minutes on each side or until a lovely golden colour.
Once each hash brown is finished, place on a plate with a paper towel to absorb any excess oil.
Garnish with chives and a little extra sea salt to serve – perhaps alongside an egg and some wilted spinach, or even a full English.
FARM FRESH POTATOES AND HANDCOOKED CRISPS DELIVERED TO YOU MONTHLY
Did you know our monthly potato and crisp subscription boxes come with a featured recipe like this one?
One box will provide you with loose bakers, baby potatoes, chipping potatoes and roasting potatoes making up 26 servings of potatoes for meals overall. Plus, because they are farm fresh, they will last you all month – though be sure to store them in a cool, dark place.
With this subscription box, you can also select your favourite flavours of our hand cooked crisps, choose from any combination of our 7 flavours to suit your tastes – or to please the whole family!
Shop now at https://fairfieldsfarmcrisps.co.uk/shop/