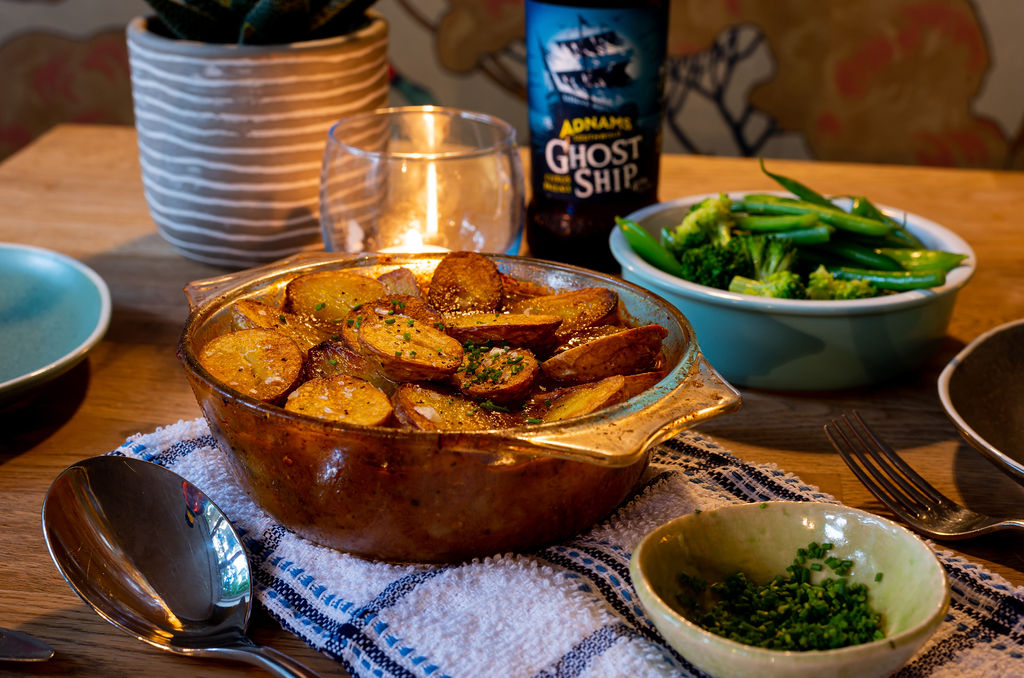 Quality meat, delicious vegetables and golden potatoes – we all know this is a tried and tested combination that makes you feel better when the sun disappears at 4:00pm and the rain is lashing at the windows. That wasn't us telling you to go searching through your recipe books trying to find a meal though, Laura has you covered once again with a delicious recipe for her Beef & Ale Hotpot!
"A real winter warmer, which makes me feel a little bit better about how dark the nights get this time of year! Plus, I love that you can put meat, veg and potatoes all in one dish. I usually add another veg side but this is a great standalone option – using baby potatoes adds lovely texture too."
INGREDIENTS
750g Fairfields Farm Baby Potatoes (or White or Red)
600g braising steak, cubed
2 carrots, sliced
2 shallots, quartered
Splash of oil
50g butter
200ml beef stock
150ml ale (we like Adnam's Ghost Ship!)
1/2 tbsp plain flour
Handful of fresh thyme
Salt & pepper
METHOD
Preheat your oven to 175°C. While it warms up, season your beef and fry it in butter until it's browned on all sides. Set aside.
In the same pan, with a bit more butter, add the quartered shallots and carrots. Fry for 2-3 minutes until the shallots are starting to turn brown, then stir in the plain flour and cook for another 2 minutes.
Gradually add the ale into the pan, stirring until it's a smooth texture. Add the beef stock, and bring to the boil. Reduce the heat and add back the beef for 2-3 minutes, stirring in a handful of fresh thyme.
While the beef is soaking up all that loveliness, get your potatoes ready. No need to remove the skin! For baby potatoes, simply slice in half lengthways. For larger potatoes, aim for slices 2cm thick.
Pop the beef into a casserole dish – one you have a lid for! – then arrange the potatoes on top, drizzling with a little oil. Place the lid on the dish and pop in the oven for 45 minutes until potatoes are browned.
Increase the oven temperature to 200°C and cook with the lid removed for a further 20 minutes. Sip the rest of the ale (or pour a glass of red) and enjoy!
FARM FRESH POTATOES AND HANDCOOKED CRISPS DELIVERED TO YOU MONTHLY
Did you know our monthly potato and crisp subscription boxes come with a featured recipe like this one?
One box will provide you with loose bakers, baby potatoes, chipping potatoes and roasting potatoes making up 26 servings of potatoes for meals overall. Plus, because they are farm fresh, they will last you all month – though be sure to store them in a cool, dark place.
With this subscription box, you can also select your favourite flavours of our hand cooked crisps, choose from any combination of our 7 flavours to suit your tastes – or to please the whole family!
Shop now at https://fairfieldsfarmcrisps.co.uk/shop/