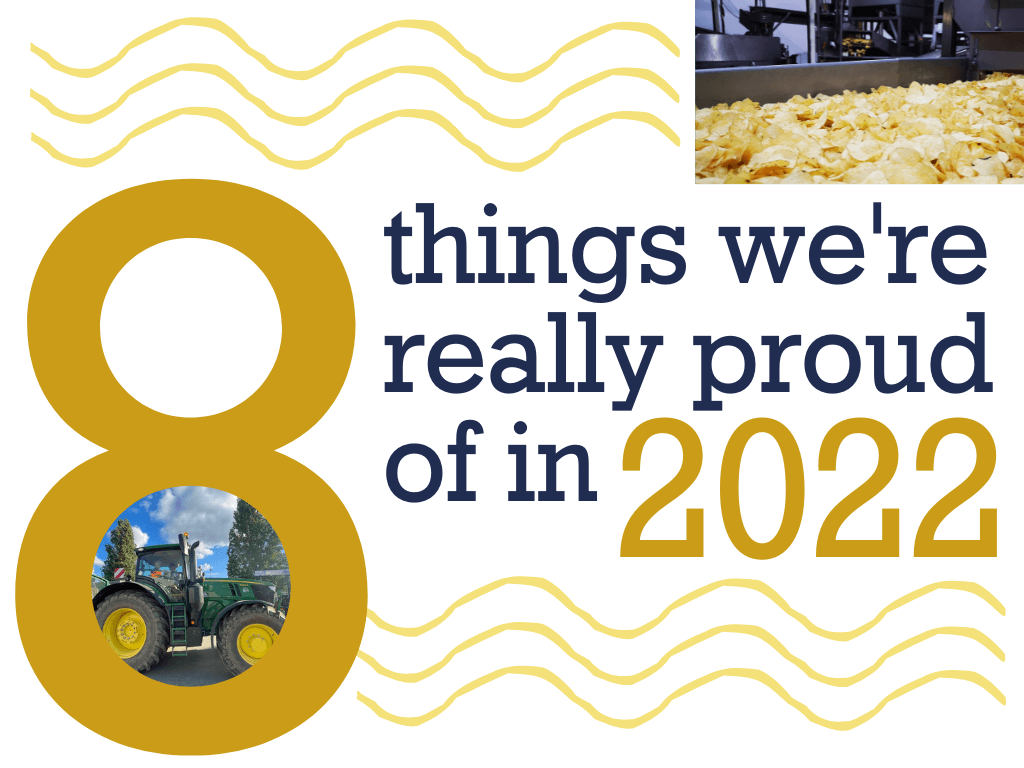 What a year it's been. When we stumbled into January 2022 we had no idea what to expect, especially after the last few years. We knew we made excellent crisps, had big plans, a top notch team and the backing of our customers. There were challenges we never saw coming (hello drought, hello sunflower oil shortage, hello energy bills). But there were huge wins, too, and the rollercoaster of 2022 is definitely ending on a high. Since you've been with us on the journey, we'd like to share some of our highlights….

We are seeing our crisps in more places than ever! On top of high profile brands you'd know, like IKEA and Soho Coffee Co, there are the many workplaces and cafés you can now find our crisps, plus attractions like Chatsworth House, Yorkshire Wildlife Park and The Deep aquarium. Meanwhile, in Spar stores you might stumble on our potatoes, and our partnership with the East of England Co-op is as strong as ever. If you see us out about, take a snap and tag us in!

Over 1000 trees have already been planted this winter, with more to come. Working with Essex County Council, Birch Airfield Composting and the many rockstar volunteers from the community that came along to lend a hand, we had two fantastic days of planting brand new native woodland and sipping on hot drinks from Queen Bee Coffee's legendary Land Rover. That's Robert shovelling compost in the picture. He's not too sad about the land being used for trees because "I could never get the b****y irrigator up there anyway".

This year we took a really important step in reducing and mitigating our carbon footprint. We looked at all our emissions across the farm, factory and in our distribution. By measuring them, we could really understand our impact and make better choices for the environment. We're changing procurement and even the way we farm, as well as switching vehicles and forklifts to electric while increasing our own energy generation – all with the aim of reaching net zero by 2030. You can read a bit more about what we're up to here.

We've been making lots of big changes to our factory and potato processing facilities this year, including the installation of a new case maker and bagger which allows us to bag up to a whopping 120 packs per minute. Meanwhile, in the packhouse, we completely rearranged the space – no small task when you have a potato washing line that's about 30 metres long. These changes will allow us to grow in 2023 and beyond. Most impressive of all? Despite the upheaval, there was absolutely no disruption to supply.

What. A. Team. Both our potato packhouse and our crisp factory surpassed all records for production this year. Armed with better technology and brilliant attitudes, we've increased our packhouse capacity by 50% and made 25% more crisps. In fact, by September we had already produced as many packs of potatoes as we had in the whole of 2021. We're particularly pleased that we were able to reliably supply crisps despite the impact of the war in Ukraine on cooking oil supply.

When a lovely couple make their way from Hertfordshire to Essex in freezing temperatures to come and plant trees for their favourite crisp brand, you know you've got something special. With record low complaints, we actually have more people getting in touch to say very nice things! Our sales and logistics teams have been getting great feedback from their trade customers, too, with words like 'seamless', 'great service' and 'dream to work with' being used, and our trade marketing support described by one happy customer as 'the most helpful I have ever been provided'. Excuse us while our cheeks get red!

It's no secret that this summer was a tough one for farming. With 3 very dry months at the peak of the potato growing season, the farm team had to work extra hard to look after our crop with the help of our on-site reservoirs. With yields down nationally by about 15%, our water management actually saw our harvest come in ahead of target by 25%. Even though we saw fewer large potatoes and a much higher labour cost, this is an achievement we're really proud of.

Our prizes this year came from all angles – For our products, we received 2 Great Taste Awards and were shortlisted for a Great British Food Award. Our factory passed its unannounced audit with flying colours and gained AA+ accreditation. Our sustainability efforts were rewarded with a 'Silver' by the Carbon Charter. Oh, and the farm itself was named the best in Essex, with awards for our winter wheat crop and environmental initatives to cap it all off!