Welcome to Fairfields Farm!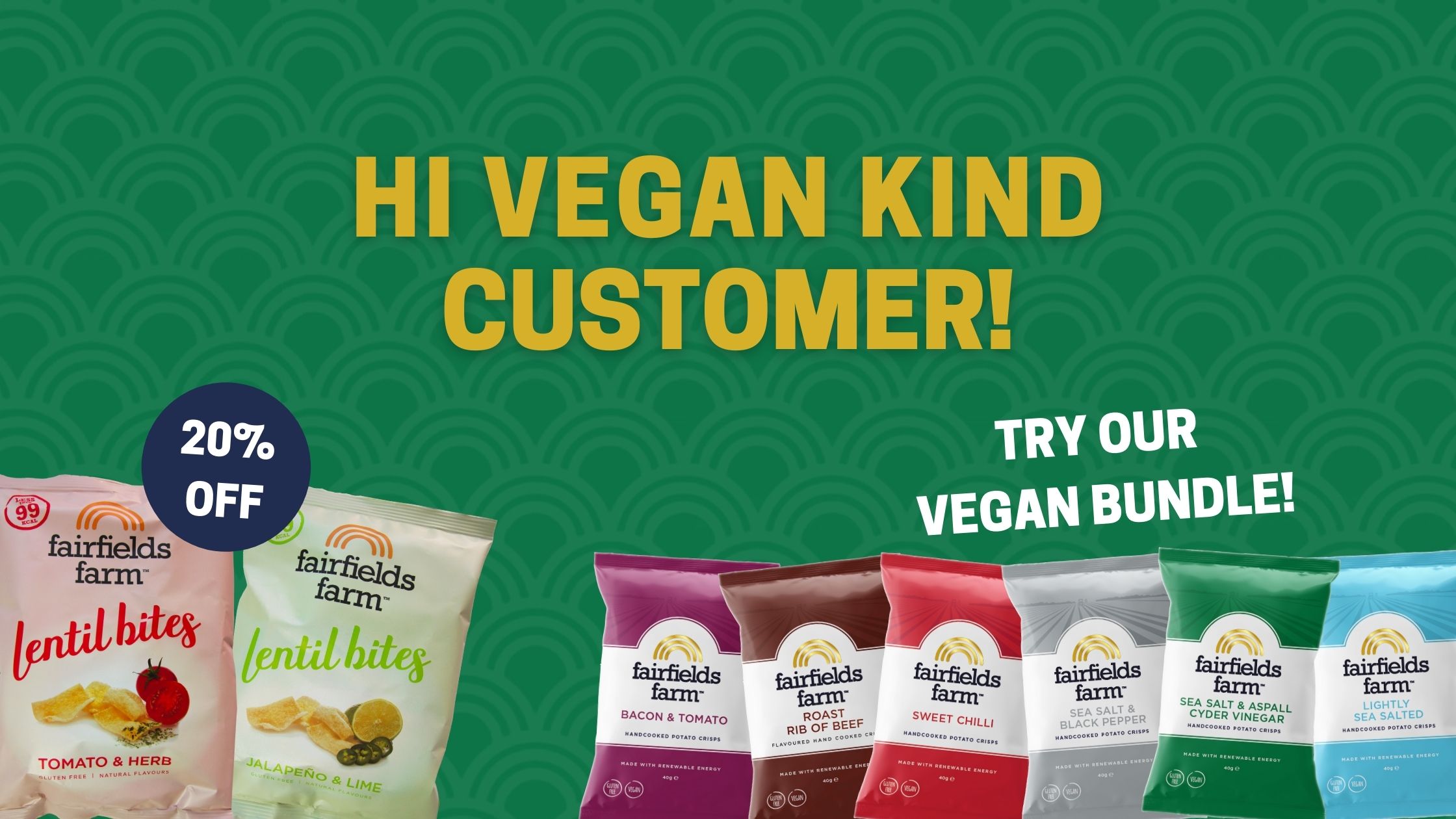 Thank you for visiting us – we hope you enjoyed your Lentil Bites in this month's Vegan Kind subscription box!
We wanted to make you aware of two special offers we have exclusively for Vegan Kind customers:
Introducing the Fairfields Vegan Bundle
The majority of our hand cooked crisps are naturally vegan and gluten-free, so we thought why not group them together into a bundle?
Our Vegan bundle features Lightly Salted, Salt & Vinegar, Sweet Chilli, Salt & Cracked Pepper, Bacon and Tomato and Roast Rib of Beef. This will come in both our 40g and 150g sizes.
Order our 12x 150g Vegan bundle here
Order our 24x 40g Vegan bundle here
Try our potatoes too with our combo deal!
As well as crisps, we also sell our own farm fresh potatoes! You can either buy these in 15kg or 9kg sizes or save even more when you're buying crisps with our combo deal. 24 x 40g crisps as well as 15kg of potatoes for just £27! Or upgrade to our 12 x 150g combo deal for £30!
Save 20% on our Lentil Bites
If you can't get enough of our Lentil Bites, we are also offering you 20% off both delicious flavours of our Lentil Bites: Jalapeno & Lime and Tomato & Herb. With less than 99 calories per pack and totally vegan ingredients, they are the perfect guilt-free snack!
Just enter VEGANKIND20 when you check out!
Order 18 x 20g packs of our Tomato & Herb Lentil Bites here
Order 18 x 20g packs of our Jalapeno & Lime Lentil Bites here